Every autumn, Step Two Designs announce the winners of their annual Intranet Innovation Awards.
Intranetters has hosted a special event to showcase the winners and present them with their awards for several years. This year, thanks to Sally Roberts, we were kindly hosted by Macfarlanes LLP.
Martin White – on hand along with Sam Marshall to present the awards – pointed out the importance of community events like this and how important it is for the winners to feel the recognition of their peers in addition to receiving a trophy recognising their achievements.
The Awards
Steve Bynghall started the afternoon off, saying he was excited that "intranets are back".
Looking back over the past couple of years, clearly the explosive innovation on the external web is filtering into organisations.
Intranet tools are looking better than ever and demonstrating value by solving real business problems.
Outlining the scope and purpose of the awards, Steve pointed to this year's platinum award winner, Lakewood High School in Florida.
The schools students have helped create a Sharepoint-based intranet which has automated, integrated and improved access to a number of staff and student services, for instance, issuing hall passes using a swipe card system.
Accolade
Our first demonstration of the afternoon came from Accolade, a social housing organisation in the Netherlands who, with the help of Malengo, have cleverly integrated their CRM system with their social intranet, Pluk. This supports their 200 staff in collaboratively processing requests from 40,000 customers about 17,000 homes.
The attractive looking dashboard (I do like grey and orange…) is customisable using widgets and there is blurring of the internal-external with some use of LinkedIn profiles.
PwC
PwC operates globally as a network of smaller firms. This presents challenges for technology strategy and communication, yet it rolled out Spark, its new Jive-based social intranet, and engaged 100,000 people within ten months.
Involving the user community as much as possible – as demonstrated by a video featuring crowd-sourced footage – ensured the network continued to grow, supported by a network of super-users.
NNE Pharmaplan
NNE Pharmaplan's winning entry was exciting in that it showed a use of gamification without merely adding points, badges and leaderboards to an existing system.
Navigate is a tool for onboarding new employees which makes use of a narrative journey split into three "missions", which new employees can embark on before they begin their employment.
This innovative use of storytelling means new employees start with a deeper understanding of how NNE Pharmaplan works on the inside.
University of Liverpool
University of Liverpool's PC Finder app addresses a genuine problem that students were unable to locate free terminals in computer laboratories, were unaware where some of the labs were and in some cases, unsure of whether they had permission to use them.
Using existing data, Paul Hagan and his colleagues created PC Finder in six weeks, demonstrating an excellent understanding of student needs and surfacing the issues behind why students filled some labs while leaving others empty.
Paul Hagan explains more.
The Rugby Football Union
The Rugby Football Union decided to replace their existing intranet and selected Sharepoint. This raised the question of how they should to support a large, widespread user base of clubs through the transition.
Midway through the project they launched Yammer to add a new social dimension. The move was a success, generating content and interaction.
When the new intranet launched (one of the better-looking Sharepoint intranets I've seen), Yammer was integrated with a large area of front page real estate given over to updates.
BSI Group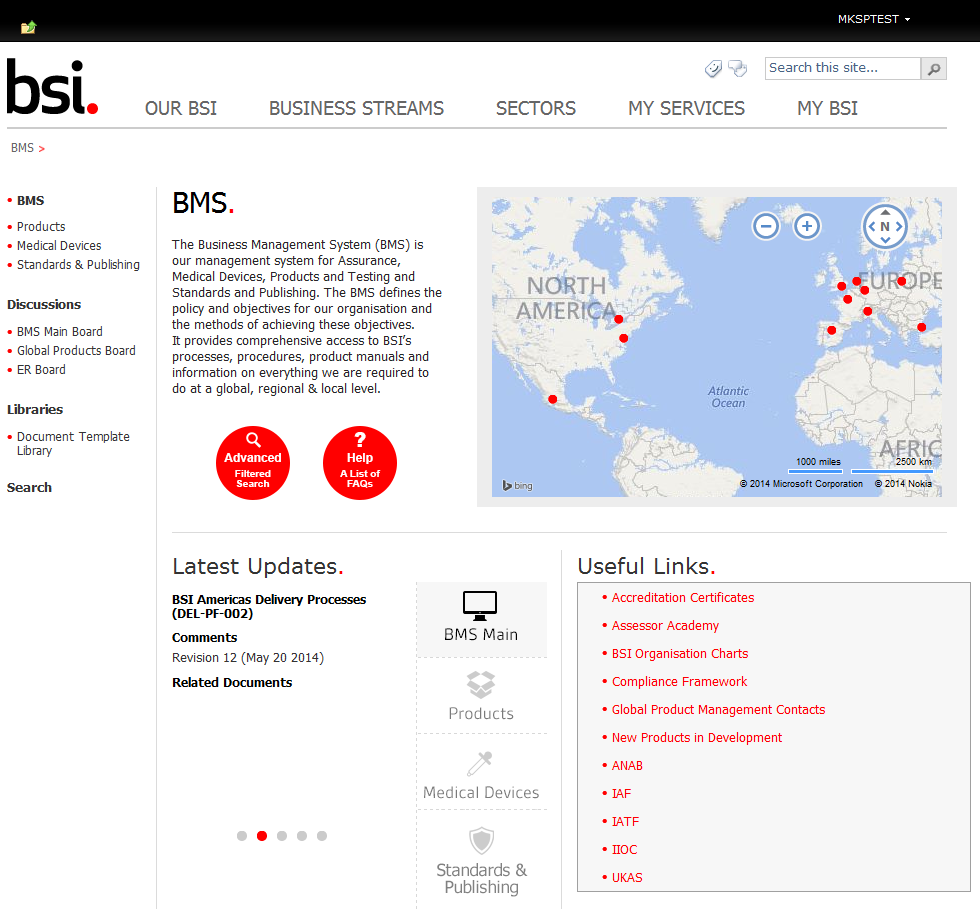 Complex implementation projects often founder when business areas find their needs in competition. As deadlines loom, compromises are agreed and the end result is satisfies no one fully.
The British Standards Institute had to get their new document management system right, providing high availability, fast access to business process definition documents.
Specialist needs result in greater complication – a document submission form includes 25 mandatory fields, for example – but BSI took their time, extending the project from 12 to 18 months, and made sure they got it right.
Thank you
Thanks to Steve Bynghall and Step Two Designs for putting the schedule together, to Sam Marshall and Martin White for presenting awards and providing insight, to Macfarlanes LLP and Sally Roberts for hosting the event and to all the Intranetters who attended and tweeted their observations during the event. Also, Sam Marshall has written up some observations for Clearbox Consulting.
We'll be back in the New Year, so let me know if you're interested in hosting or demoing in the future.